hello from the laziest person in the world. I'm sat in bed AGAIN! Urgh someone sort my life out for me please.
Anyway i hope you all had a lovely Friday yesterday! in the day i did nothing but cut and stick for my college work, boring but it needed to be done! I will soon get out of bed and do some more college work (hopefully) literally need to sort out my laziness it's becoming a tad ridiculous. I didn't get up to much last night nothing was planned with my friends so that was a bit annoying but my brothers did have people over, at first it was about 5 people then more and more came so i ended up just spending time downstairs with my brothers and their friends, wasn't half bad actually! my brothers are surprisingly nice when there off there heads hahahah (dysfunctional family alert) but no it was nice, I do love my brothers who ever much i moan about them! so i went to sleep at about 2 in the end. They all left around half 1/2ish so i went back to bed and watched step brothers until i fell asleep.
Today has been a less then productive day even though it is only 20 past 1 as i write this. It's weird weather in Brighton today it's pissing it down and it's really windy but theres sunny sky! so on this rainy day i have made myself a peter pan collar top! inspired by the lovely
Gem
with her tuesday tips! it's actually a really good one and relatively easy! I used a sewing machine instead of hand tacking it because i couldn't find a needle and I'm not too bad on the old sewing machine. so heres how it turned out!
for some odd reason photobucket has decided to make the 2 bigger pictures blurry! urgh oh well.
The process off making it! It was really easy thanks to the steps from Gems tips. And putting the clear nail varnish really did work! I mean it's not perfect my sewing skills aren't up to scratch (I really need to get back into it) but anywho i like it. And it's made an old top that i never wore into something a lot better! so i am happy.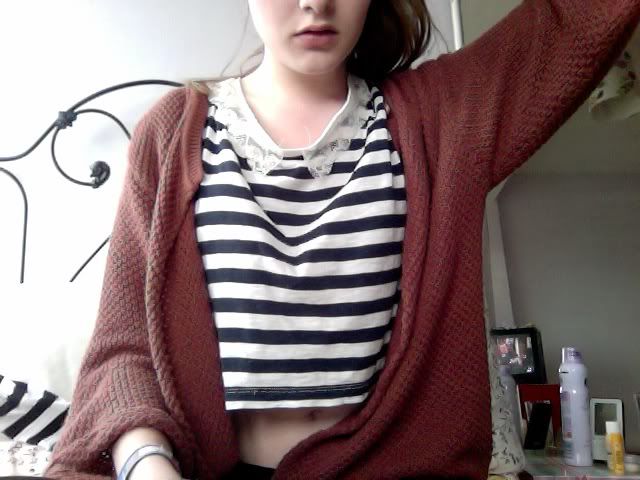 So if any of you have a spare 10 minutes and some lace i defiantly recommend doing this! check out
Gems tuesday tips
for some help as well!
hope your all having a lovely Saturday afternoon, I might be off to meet a friend for Starbucks later but I'm not too sure, should probably get on with some college work seing as it's back to college on Monday! I'm happy though as my best friends home tomorrow! We're going to order a dominoes for when she's back hahah looking forward to it i've been craving one for so long!
I'm happy now as I'm finally seeing my other best friend! I've known her for about 11 years and I've not seen her since christmas! she's the year below me so we're always doing different things so it'll be nice to catch up. Her family is like my second family thats how well i know them hahah!
Also thank-you to the lovely
Jennie
who mentioned me in her blog post!